Linking up today again for Trendy Tot Tuesday! (Link up here with
Kelly
,
Megan
, and
Lindsay
).
Today we are going to discuss character apparel---we're talking Minnie/Ariel/Dora/Doc Mcstuffins/etc....whatever your kid's obsession(s) is! What are your opinions on character apparel?
Personally, it's definitely not my style.....key word being *my* style lol. My girls however, they love it. My biggest problem with it is that if my girls have some then that's ALL they want to wear. And all of Mama's cute little outfits I've purchased don't get worn. Alas, it makes them so happy and I'm also a Mama who loves to spoil. So we compromise.
Today for preschool Raya is wearing this Minnie dress, from Target (although I bought it used--I think it's from last year).
However Target is a great place to get "cool" character clothing. Here are some things at Target right now that help bridge the gap between what you kid wants, and what you can actually tolerate :-)
I also like these more "retro" tees, but it's hard to find them for characters my girls actually recognize
And Kohls actually had a great pj sale recently, with an extra 20% off code, so I picked up pjs for the girls---lots of characters! I love keeping characters on their pjs whenever possible---otherwise the characters would take over their everyday wardrobes and drive me crazy :-) Here are some of the pjs I got them:
As a potty training update, Brielle continues to do awesome. A few accidents each day, but today is only day 4 so overall really well. She stayed dry all afternoon and evening yesterday.
When she pooped on the potty for the first time yesterday I had a special Dora skirt for her reward. Today is the second day straight now that she has refused to take it off haha. (I got it from Etsy and it was CHEAP because it was an "oops" skirt--normally this sellers skirts are very full and poofy and this one is just a basic regular one. But for $10 it did the trick for Brielle :-) ....etsy shop name is "
landofsparkle
"
Some other skirts (normal poofy ones she sells) are cute with really "different" character themes...like this ninja turtle one lol...or a bunch of super girls!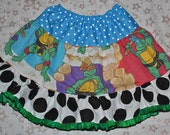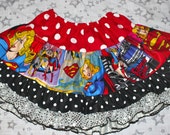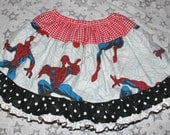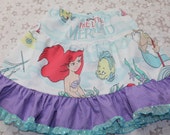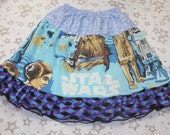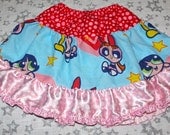 So do you have "rules" in your house about character clothing? Where are your favorite places to shop for it, if you do?
Happy Tuesday everyone!